Okay, now I'm going to finish telling all of you how my vacation in Orlando went. The last park we went to in Orlando was Universal's Islands of Adventure. I know that's strange considering the previous day we went to Magic Kingdom. Unfortunately not even the Glenn Family can go to three parks in a day. Fortunately there was a lot of attractions we wanted to go to at Islands of Adventure, so we were all happy.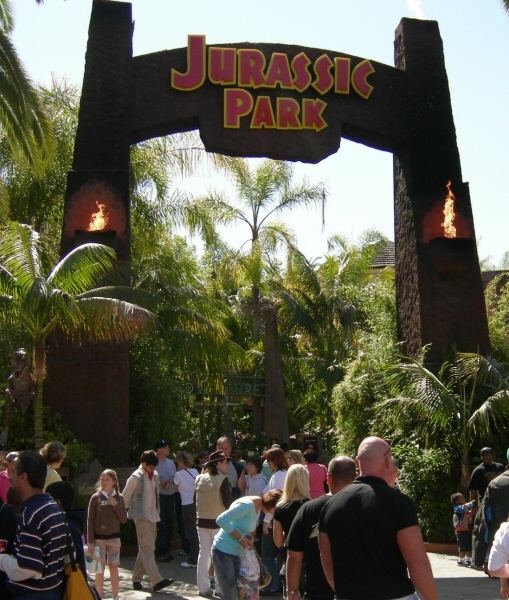 The first place we went was (of course) Jurassic Park. Sorry, but we didn't get a picture of us by the gate. Maybe next time. We had to wait a while to get on the ride, but we all managed to get on. We rode in the third row the first time, so we did get a little wet. Everyone enjoyed watching the dinosaurs, but then a Parasaurolophus changed our course and we drifted through the raptor pen. We saw the T-rex just as we took an 85-foot drop. That was the scariest part of the ride, but it was so much fun!
We tried to get into The Wizarding World of Harry Potter next, but it was too full. We had to wait a while. We searched in vain for a ride in The Lost Continent, which had an Ancient Greek theme. We did ride the Seuss Coaster in Seuss Landing, which allowed us to look at the attractions based off of the famous author's works. Once we got to Marvel Superhero Island, Jonathan and Michael rode the Hulk. I wasn't brave enough for that. We got lunch in the Fantastic 4 Cafe, then looked around at some of the attractions. I saw the characters of Green Goblin and Dr. Doom greeting some kids (earlier I saw Captain America, Wolverine, Rogue, Cyclops, and Storm).
Finally we were able to get into The Wizarding World of Harry Potter. We all wanted to get wands from Ollivanders, but they were $30.00 each. We didn't have enough money for that, so we decided to leave wands for another time. Jonathan, Michael, and I did go on Flight of the Hippogriff while we were there. It wasn't too high, and went fast enough for an enjoyable ride. We then looked around Hosmeade and looked in some of the gift shops. Afterwards we went back to Jurassic Park River Adventure twice! However, the last time we went on the ride stopped before we got to the T-rex. Once they got us down and off the ride, we learned that a storm was coming and lightening had been seen. Rides were being closed down everywhere. We decided that it would be best to leave the park. I think it's possible that we might go back in the future.